Top 5 Best Bass Headphones of 2022
If you have arrived with the intention of the best bass headphones with the deepest, most earth-shattering bass, you're in the exact right place.
Forget about the low price junk that other "review sites" have been going about headphones with awesome bass – we know what headphones truly have a decent amount of bass – we've tried them all.
We're going to recommend headphones that we have tried and tested ourselves, and are confident that they deliver some of the deepest bass notes that will make any bass head smile (trust us, we love bass!). Let us introduce you to the best bass headphones on earth that deliver the most powerful, deepest, and bone-shaking bass you'll ever hear.
3 key things to take into account before buying Bass Headphones
Noise isolation
Noise isolation is a crucial feature of bass headphones. If you have made up your mind to buy bass headphones, make sure that the headphones you are going to buy offer noise isolation. Because bass can be a very loud sound, it's vital to have headphones that will cancel out any exterior noises so you can concentrate on your music.
Longevity
Since bass headphones are more costly, it's important to make sure that you're considering a pair of bass headphones that is durable. Moreover, you are choosing a headphone cord that is not easily tangled, and the earbuds or cushions can be changed if they get damaged! The stability of bass headphones will provide you with many years of entertainment with hearing music on them.
Connectivity and battery life
The inclusion of Bluetooth in headphones has made life a lot easier for music lovers. It means they do not have to bear the burden of boring long wires. In addition, it also gives the luxury to answer the phone calls without stopping the music.
Bass Headphone with a decent amount of battery life will give additional hours of music listening experience.
Top 5 Best Bass Headphones in 2022
1. V-MODA Crossfade LP2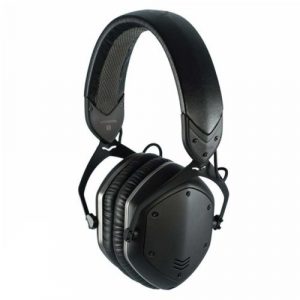 The bass on these particular headphones is very robust and can be fixed based on how much bass you want. While the bass isn't rigid, so it's an excellent amount of balance of bass with other ranges in music being heard well too!
Additionally, there is a noise isolation facility is available for these headphones, which makes listening to your bass, even more, sweeter because you will not be distracted by any outside noises.
These headphones provide a superbly clear, full of live sound. With its 50mm dual-diaphragm drivers, this product can generate sounds with marvelous clarity and richness without overlapping or sacrificing quality. So whether you're a music devotee or just looking for a good pair of headphones to keep on your travels, the V-MODA Crossfade LP2 is going to impress.
 2. Fostex USA TH900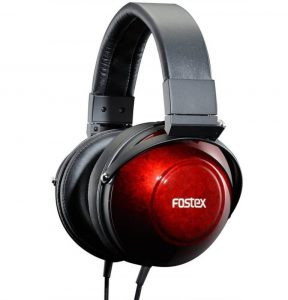 If you have made up your mind to absolute bass canons that can offer very low bass then Fostex USA TH900 should be at the top of your bucket list.
Bass is the key advantage of these headphones. Other headphones are hardly audible, the Fostex can be leveled as the king of playing very low with authority. The bass of this wonderful headphone is well-adjusted which allows a smooth transition between low bass frequencies without an unnecessary push.
It's very rare to find headphones that can play the entire bass spectrum with both speed and authority, and the TH900 gets this job done with a lot of conviction. Apart from the bass performance, the Fostex TH900 attributes housings are made from Japanese Cherry Birch and finished with Urushi lacquer. They do feel like a premium set of cans that are beautifully crafted and furnished. 
The Fostex TH900 is the headphone to gain if you want real AUTHORITY in the lower-bass regions and deep frequency areas. No other headphone comes close.
3. Nuraphone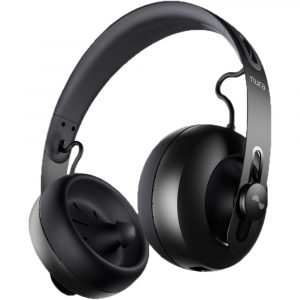 Nuraphone is best suited for those with a specific taste for electronic sound and proper bass. To be precise, these are not headphones for every individual. A music lover can get mesmerized by its solid depth and volume of bass.
Let's discuss in detail the bass – the depth of bass that this headphone provides is far from imagination. This is a smart headphone that evaluates your hearing and uses the Nura app which generates an optical representation of how you like to hear. It then adjusts the sound base on your hearing profile. But from what we witnessed so far, the Nuraphone offers marvelous sound.
The highs and mids are crisp and very detailed, and the bass goes deep (VERY deep). It's can be compared to enjoying a real-life cinema during listening to these heads. The headphone itself is quite identical – it is a headphone with an in-ear design that goes within your ears. This can be a right or wrong thing rely on how you like to listen, but if you don't bother about the in-ear design, these headphones can really handful.
4. Sony MDRZ1R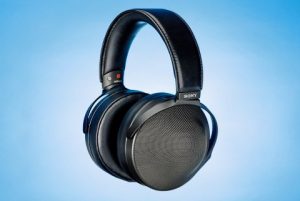 Sony MDRZ1R is one of the premier quality headphones we have tested that delivers extraordinary audio experiences; they are good enough to overcome the aged classic and convey some of the most full of life, detailed, and profound bass sounds you'll ever get.
Let's start the review by pointing out that the Sony MDRZ1R is never been a typical headphone. These are superb, audiophile-grade headphones from Sony that are equipped with 70mm HD drivers and can deliver high-quality soundstage, positioning, and imaging. They provide a considerable amount of sound isolation by maintaining an ample and airy resonance.
The headphone has formidable build quality with top materials. You can experience the condition of these headphones just by feeling them – the cans are well built, including a Fibonacci-patterned grill. The bass reaction on these headphones is very compact and punchy with substantial extension. They never sound puffed, and the bass compliments the upper mids and treble range naturally. Moreover, they are comparatively easy to drive and do not need some significant amping to fetch out the sound quality.
5. SENNHEISER HD 820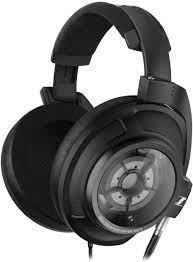 The closed-back model of the Sennheiser HD 800 series, is a reference-grade audiophile headphone that delivers nothing short of better quality sound and deep bass. Moreover, closed models may be good at blocking noise – both getting in and going out – but they suppose to compromise on performance as a result. 
Let me just start here by declaring that the HD820s aren't going to give you booming bass – the bass sound is compact, thicker, and deeper. 
They are meant to be inherent and lively and can bring up the finer subtleties in your music that you might not have observed before. In other words, these headphones noise like what quality headphones should sound like.
Conclusive Words
To choosing headphones apart from the quality there are some other aspects like the budget is also important. In addition, personnel preference is also a decisive factor.